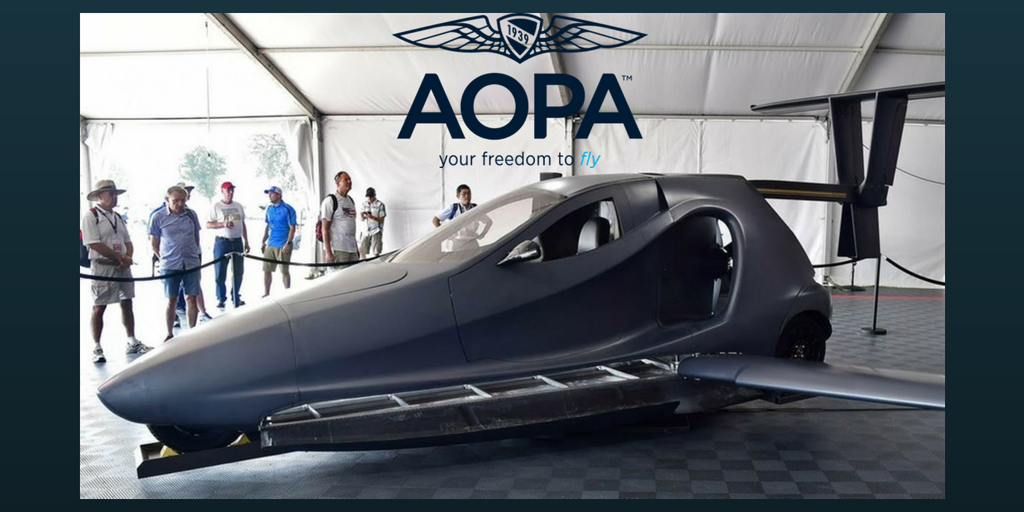 August 2, 2018
Switchblade Touted As Flying Sports Car
The swinging wings are the heart of the $120,000 Switchblade, he told a crowd of onlookers July 24. The battery "wasn't hooked up," so he couldn't demonstrate how the wings tuck up inside pods located near the undercarriage while the device transforms itself from an aircraft into a tricycle-wheeled land vehicle.
The Switchblade features a ducted fan pusher engine because it would be "protective of propeller on the ground so it won't harm anybody, but it also looks appropriate" when the vehicle is in its automobile mode, he said. "We wanted to keep it safe and stylish" at the same time, he explained.
The vehicle spent a lot of time in wind tunnel testing for various components that had to be compatible for flying and for driving. "We validated what would work, and what would not work," as the vehicle morphed into multiple roles. "We're taking the approach to do everything we can to make flying safer," he continued.
The Switchblade uses three large automotive brakes and tires to stop the vehicle in a short distance after landing. That is intended to allow the pilot "to fly an approach well above the stall speed. This is intended to reduce stalls and spins on approach, a safety improvement targeted by the FAA for the GA fleet."
The machine looks more like a motorized trike, and in fact, it's classified as a motorcycle by the U.S. Department of Transportation, Bousfield noted. The designer referred to the Switchblade as "a flying sports car because of its high performance." The engine is a lightweight, turbocharged, 190-horsepower, liquid-cooled V4 "that is capable of 0 to 60 in 6.5 seconds and a top speed of 125-plus mph" on the ground. In the air, "it will cruise at 160 mph with a top speed of up to 190 mph and a range of 450 miles."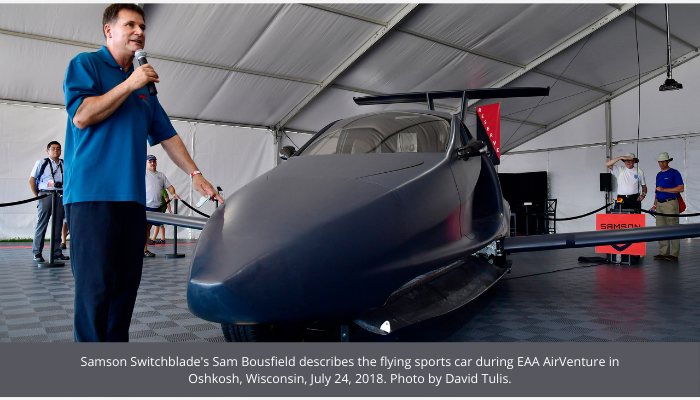 The aircraft is designed to use the engine to power the wheels for takeoff, and patent applications have been filed for "a custom geared reduction unit that takes the engine speed and reduces it to a much lower speed for the propeller." A new propeller shape is supposed to make it quieter, which would presumably lead to fewer noise complaints when some of the 656 preordered flying two-seat "sports cars" take to the skies.
He also explained that a great deal of thought went into safety systems and their backups. For example, the rudder system has two actuators—one for each rudder—and "if they freeze for some reason, the computers know, and another computer kicks in" to keep the aircraft aloft.
Bousfield said "the big change this year was in our dashboard." The instrument panel features a larger 10-inch Skyview HDX designed to give pilots "a bigger environment for flight planning and visualization." He noted that an enlarged "eyes forward display" would keep key takeoff and landing data "directly in front of the pilot and co-pilot in big, bold, easy-to-read numbers and dials."
Article by: David Tulis – Associate Editor Web/ePiolt
Originally published August 2, 2018 on the Aircraft Owners and Pilots Association (AOPA) Website
Link: https://www.aopa.org/news-and-media/all-news/2018/august/02/roadable-and-flyable-switchblade-touted-as-worlds-first-flying-sports-car