>

Specifications
Switchblade Flying Sports Car    Price: $120,000 (est.)
The Switchblade is a three wheel, street legal vehicle that you drive from your garage to a nearby local airport. Once there, the wings swing out and the tail extends in under 3 minutes. You then fly your registered aircraft directly to the destination – at up to 200 mph and 13,000 feet. You simply land, transform your flying sports car back to driving mode – the wings safely stowed and protected – and continue to your final destination.
The Italian-inspired clean shape is designed to produce a down-force in gusty wind conditions, stabilizing the lightweight vehicle on the road. The wings are set at the correct angle so you literally fly the plane off the runway! Landings are similar, in that you simply fly the vehicle onto the runway to land.
IN A CLASS OF ITS OWN
High performance on the road and in the sky
Fast, sleek and fun to operate
Safety features like no other Multi-Mode Vehicle
Designed to be truly practical, for everyday use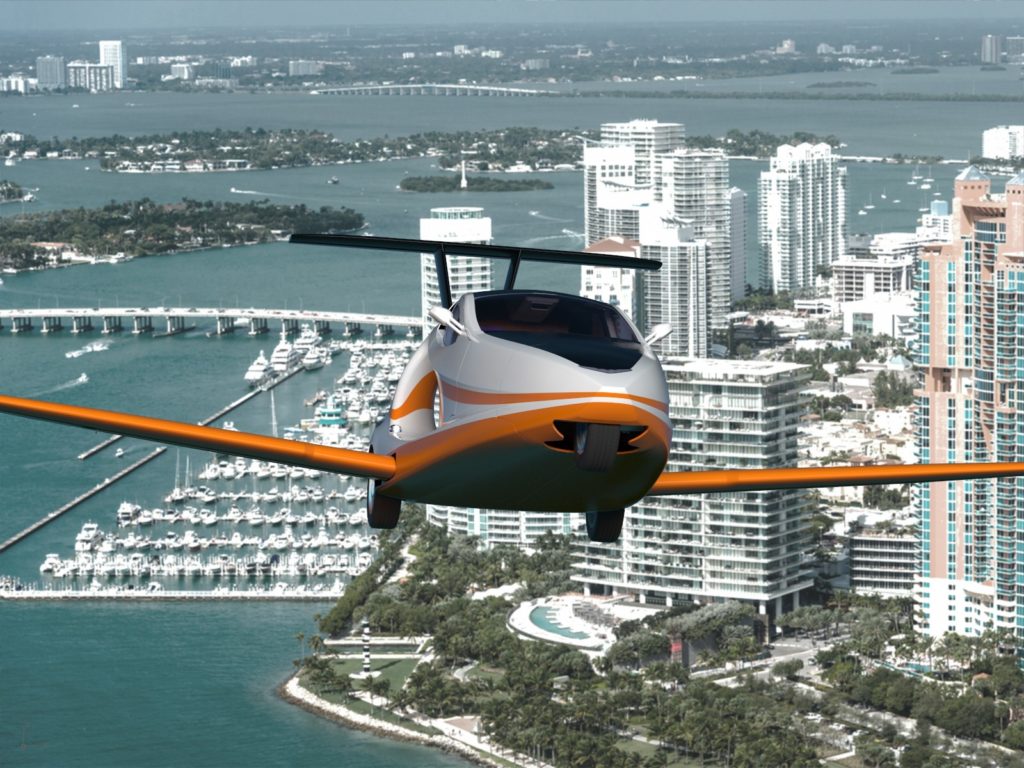 THE FREEDOM OF YOUR DREAMS
Have the best of both worlds
Escape highway traffic
Be in total control of your travel schedule
Get there safely, regardless of the weather
Say goodbye to travel hassles and delays
The Switchblade has side-by-side seating for two, room for over 100 pounds of luggage (golf clubs, etc.), a wide cabin, and the power-to-weight ratio of a 2017 Corvette. In the past, flying car concepts have delivered mediocre performance in the air or on the ground. There is nothing 'mediocre' about this vehicle.
STANDARD FEATURES
Extendable wings and tail
Wings fully protected while driving
Redundant ignition and fuel systems
5-speed transmission for driving
Dual ground / air lighting systems
Digital instrument display
Premium sound system
Heating and air conditioning
Adjustable leather seats
Complete vehicle parachute
Front and rear crumple zones
Roll over protection
Front and rear disc brakes
Safety glass front windshield
STANDARD INSTRUMENT PACKAGE
Navigation radios
ELT (Emergency Location Transmitter)
Video rear view monitor and cameras
Turn-by-turn Ground GPS
Mp3 player
Glass cockpit (flight instruments)
Custom dashboard

Dynon 10″ Skyview digital display
iPad Mini
Dynon radio and transponder
Dynon Intercom and GPS 2020 receiver, compass
AOA (Angle Of Attack) gauge
CLASS OF AIRCRAFT
Experimental / Homebuilt class, requires the owner to build 51% of the vehicle. The kit is delivered to you majorly assembled. Should you desire professional assistance, one of our Builder Assist Centers will be able to help you complete the vehicle in as little as three weeks.
LICENSES REQUIRED TO OPERATE
On the ground you will need either an automobile license or a motorcycle license. Some regulations vary from location to location. In the air you will need a private pilot license.
Snowbird Model
Price: TBD
Winterized version including heated pitot tube, re-locatable ski racks, large capacity windshield de-ice and heated seats.
Aurora Model
Price: TBD
Ruggedized version including all standard features, all Snowbird features, beefed up landing gear, Garnet Tread Tires, reinforced frame, high-lift wing for Short Take-Off and Landing (STOL) operation, and extra mounts for holding cargo in rugged terrain.
Trek Model
Price: TBD
This ruggedized version includes all standard features, added ground clearance, beefed up landing gear, reinforced frame, high-lift wing for Short Take-Off and Landing (STOL) operation, extra mounts for holding cargo in rugged terrain, and large-capacity radiators for hot climates.
Builder's Assistance
We realize that the best possible way to build your Switchblade may be by using professional assistance. You not only get trained by pro's, who work right alongside you, but you get the benefit of our shop tools and equipment that make the building of the Switchblade a snap.
We believe that you will be able to have your kit dropped off at one of our future Builder Assist Centers, and when you are ready, you should be able to move through the kit build process in as little as three weeks. Possibly less!
You will end up with the knowledge of how to maintain and repair your vehicle, and the certainty that the vehicle was built to professional standards! Imagine telling your friends that you not only are the pilot, but the builder of your Switchblade? Your success is our success, and we hope to see your big smile on the day of completion.
Check back here after we are flying, and you will see the start of our growing list of certified Samson Builder Assist Centers.
Custom Paint for your Switchblade
Samson Sky offers the added service of custom finishes for your Switchblade vehicle, including design, layout, and custom paint or vinyl wrap. You are guaranteed that our paint or vinyl system is compatible with the Switchblade carbon-fiber construction.
This is just one more way that Samson aims to provide excellent service and support for our customers. When the time is right for your statement to be made, whether it is your corporate image, government crest, or champagne to wildcat, please call us at (855) 772-6766, or use our contact form.
Specialized Requests
There are many custom options one might choose or request, including bullet resistant construction, designer interiors, high-performance engines, speed enhancements, special safety requirements, sports features for fishing, surfing or skiing, and many others. Please let us know your request by completing the Custom Options form, and we hope to surprise you with the possibilities!