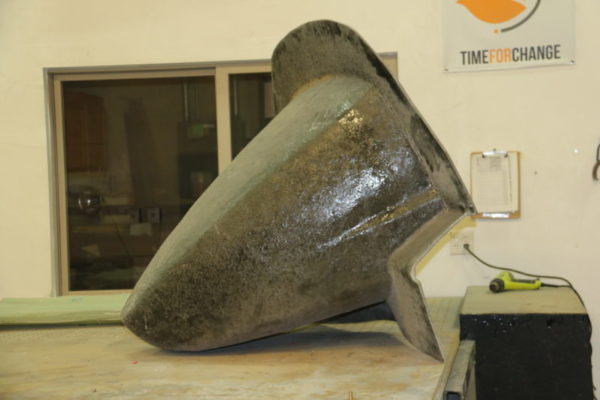 More body pieces in the works! Shown above is the mold for the nose cone. The purpose of this piece is to hold an aerodynamic shape in 200 mph+ winds, but also collapse in case of a frontal impact. It is being made with the same material used in Formula 1 cars – Enegra. This works like the plastic film binder between the two layers of glass in an auto windshield. The plastic keeps the glass splinters and pieces from exploding in all directions, and so does the Enegra. It holds the carbon and kevlar together as it collapses so that the pieces don't become projectiles, and the material holds together longer to absorb more force from the impact.
We have had several requests for more shots of the dashboard, so I am attaching more images of that to let people know what it will be like. The dash shown below is covered in leather to match the seats. While that is pleasing to the eye, in practice it is difficult to pull off, as the leather dries and shrinks in the sun. We will have a non-glare producing metal or carbon top dash surface on the front half, and on the rear side facing the passengers the dash will be covered with a man-made material that can withstand the elements and UV rays without becoming an eye-sore.
What is still missing from the dash is the center console between the two seats. This will house the hand throttle for flight mode, the parking brake, and cup holders (everyone's favorite)! We are looking at providing an arm rest and some small storage, plus USB charge ports, but will have to see if we have room for all of that.