The last of the engineering on the bulkheads for the body was done, and we are now launching on the rest of the body parts. We are stacking up parts, ready to assemble as soon as we have all that we need.
Most projects start with the body, as it is the biggest piece, and it really looks like the vehicle is nearly done! We tackled the hardest part first: the wing and wing swing. With the wing completed, the body should be a cake-walk by comparison. Above is an image of the rear bulkhead showing an engineering visual depiction of the stress in that part. The areas that needed to be strengthened with more carbon layers  are shown in red.
This part is symmetrical, so the image shows only the left half of the piece. The part is mirrored on the center line, which is the right side of the part in the image above. The left side of the image is the actual body outline (on the left side). You can see the body begin to curve inwards on the left side of the image, where the air channel into the ducted fan in the rear begins to take shape. The body continues to get smaller as it approaches the propeller, at which point it disappears almost entirely. This bulkhead is important as it forms much of the support for the wing and engine mounting.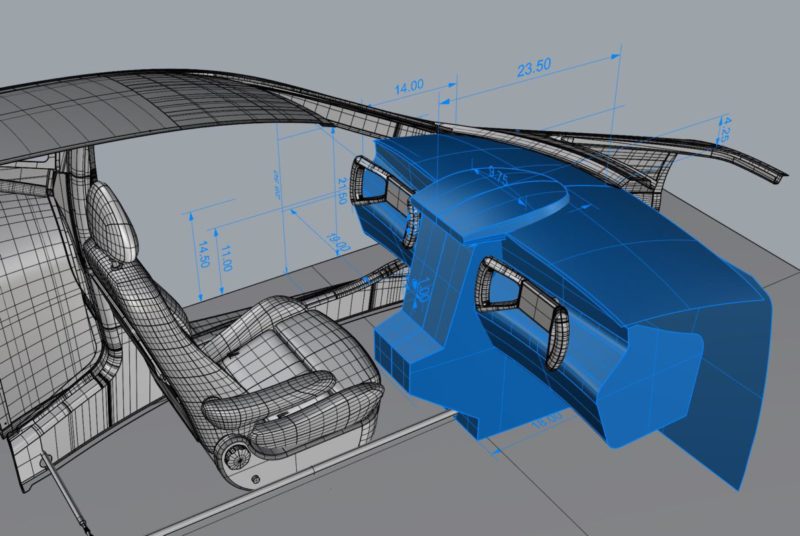 We are also creating the dash in the 3D model similar to how we made the dash mock-up that went to AirVenture last month. We are taking what we learned, and incorporating it into the 3D computer model so that we can get the dash mold done on a cnc (computer-guided milling machine). That way, it will fit perfectly into the body once assembled, and we can tweak things to make the final design production-ready. The image above is of work in progress for the dash. We will be starting on the control wheel next, as well as the center console. We had more room in the center console than we thought, so have more room to play with. Think cup holders!