The 1/4 scale prototype has been completed and initial flight testing started. The pictures below are of the completed prototype being taken to our "secret test facility". We did not paint the vehicle for the first few hours of testing Saturday evening. There was ample thrust once the battery solution was perfected. The electric motor/prop/battery pack worked well, producing more thrust than needed to push the prototype down the runway at flight speeds. We were late getting the prototype ready that day, so we only got two hours of flight testing in before calling it a night.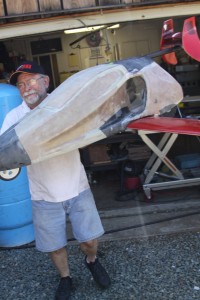 Test Pilot, Torrey Ward, checking out the Switchblade prior to testing.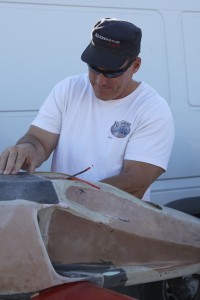 Our two intrepid camera men, John and Chris (right) drove from Reno to be there for the testing.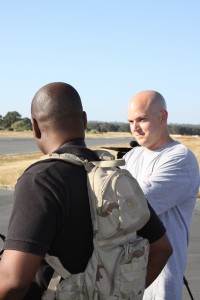 Bringing it in after one of the runs. The Switchblade prototype had plenty of thrust for very high-speed runs. We learned quite a bit the first day, but need to come back tomorrow after some tweaking on the tail and cg (center of gravity) to test again.