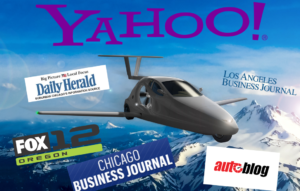 February 11, 2018
Switchblade Creating International Demand For Flying Cars
Samson Sky, creators of the Switchblade, the world's first Flying Sports Car, now has Pre-flight Owners and Reservation Holders hailing from 15 countries worldwide, and 40 states of the U.S. The numbers are growing daily, averaging five new reservations each week, according to Samson Reservations Manager, Martha Bousfield. The engineering and build team at Samson is working intently to finish assembly of their cutting-edge vehicle, with first flight scheduled just a few months away.
Radio, TV, newspapers and magazines continue to pick up the Switchblade story. Over 300 media outlets covered this latest news just last week.
While Samson has a strong following in the U.S., they seem to pride themselves on being relevant internationally. "I find that the flying car crosses borders as a universal dream for all of mankind", stated Samson CEO, Sam Bousfield. "Regardless of nationality or ethnicity. The world wants a flying car, and we are going to give it to them." Samson apparently anticipated world-wide sales, as the vehicle is designed to provide a choice of left-hand drive or right-hand drive. Dual controls are also available, allowing for flight training in the Switchblade.
Switchblade Reservation Holder, Herby Olschewski, is an Entrepreneur, pilot and self-proclaimed global village citizen who says he has been following every promise of a flying car over the past few decades, "I get the feeling that the Switchblade is the real deal. We plan to use several—for nature conservation in Africa and for fast, efficient transport in Europe.  It's a versatile and speedy vehicle, easy on the eye and practical. The price tag is right, both on the road and in flight."
The Switchblade is classified as a motorcycle by the U.S. Department of Transportation, but Sam Bousfield, its creator, likes to call it a flying sports car because of its high performance. Its engine is a turbo-charged, lightweight 190 hp liquid-cooled V4 that is capable of 0-60 in 6.5 seconds and a top speed of 125+ mph / 201+ kph. In the air it will cruise at 160 mph / 257 kph, with a top speed of up to 200 mph / 322 kph and a range of 450 miles / 724 km. Using Road & Track's slalom testing parameters, the ground test vehicle out-performed everything in its wheelbase per Road & Track's historical data base.
In 2009, NASA Aerospace Engineer Larry Neu was the first person in the world to secure a Switchblade. Now retired, he still captains a Gulfstream. "Having seen various parts of the world from a high cruising altitude, the Switchblade will allow me to take my viewing of the scenery of this beautiful country to low altitudes. When I spot something that piques my interest, I'll hit the 'nearest airport' button on my GPS, land, and revert to ground mode. What a way to travel and explore. I see the Switchblade as the ultimate freedom machine."
With flying car involvement from Google, Amazon, Uber and others, interest is building and it's leading to growing public attention and enormous investment activity.  Apparently even new jobs are being created, as Silicon Valley-based online school Udacity has launched a flying car degree program to begin training flying car engineers.
"The future with a flying car is a good future – a bright future," stated Sam Bousfield. "It's the kind of future our team wants to have."
For more information about the Switchblade and to follow its progress to launch, visit: www.Samson Sky.com.