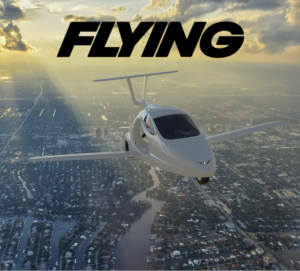 April 12, 2018
Switchblade Sponsors Flying Car Forum At Sun 'N Fun 2018
Samson Sky says it's now holding 615 reservations for its new Switchblade kit-built, flying sports car. The company is sponsoring a Sun 'n Fun forum at midday on Friday about the state of the flying car industry where visitors can chat with the Switchblade creators. The Samson Sky reservation program was launched at Sun 'n Fun just two years ago when the first glimpse of the wing swing mechanism for the vehicle was released. The Switchblade is reported to have the power-to-weight ratio of a 2017 Corvette.
The company says the Switchblade reservation list includes enthusiasts from 15 countries. Samson Sky anticipates the price of a VFR Switchblade to be about $140,000.
The Switchblade is a three-wheel, street legal vehicle that motors from the owner's garage to a nearby airport. Once there, the wings swing out and the tail extends in under 3 minutes. Builders claim the Switchblade will fly at speeds up to 200 mph and climb as high as 13,000 feet. At maximum gross weight, the Switchblade weighs in at 1,750 pounds and with a 30-gallon tank offers a range of about 450 miles using the Samson 190 h.p. liquid-cooled V4 engine.
The Switchblade will demand about 1,100 feet of runway for takeoff. The company offers answers to dozens of frequently asked questions about flying cars on its website.
By Rob Mark April 12, 2018
Originally published in: FLYING.