We followed up a successful showing at Golden West Air Show with another at the Auburn, California, Thunder in the Sky event last Saturday.  To do this we again stayed up past midnight to finish our second set-up for the rear suspension.  The set-up for GW Air Show didn't allow much adjustment, but the latest one is completely adjustable.  While this is more important for a ground vehicle than a flying vehicle, it is ground testing that we are doing!  The tests are going well, with the vehicle exceeding expectation.  So far, hard cornering at 30+ mph feels very comfortable, and road speeds above 40 mph are smooth even on very bumpy pavement with potholes.  We found a nearly ideal test area of private roads that allows us to conduct testing in a variety of real world conditions.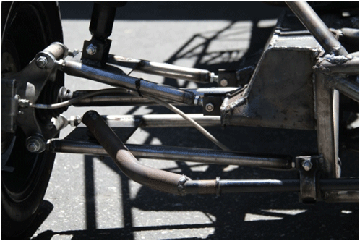 The images here show the new suspension, which is a double A-arm suspension, similar to racing cars.  While we are still tweaking the shock absorber portion,the rest seems very likely to be a 'winner'.  We will still design and test a torsion bar/trailing arm suspension system, and with that will complete our ground test program.
While we have a long ways to go, we are working hard to complete first flight before the end of the year, and so will not be attending AirVenture this year as a vender.  The CEO, Sam Bousfield, and VP Public Relations, Don Campbell, will be there for a forum on Tuesday, July 27th, and for the next day after to meet with people interested in the Switchblade program.  If you wish to meet personally, please let us know via the website information request line, and give contact info that would be good during the event so you can connect with Samson at that time.