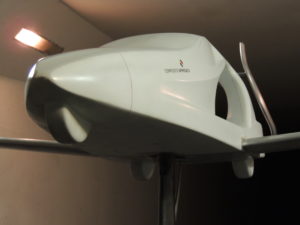 May 7, 2014
Samson Sky Reaches Major Milestones with Flying Car
The Cascade Business News, Central Oregon's premier business journal, featured us in an article highlighting our recent milestones and various ways the Switchblade could be used as a business tool. At the bottom of the article are links to 4 videos, showing some of the latest Switchblade action!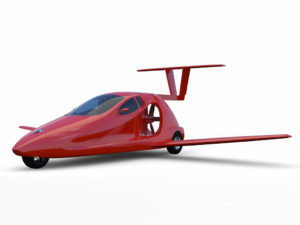 "Located at Prineville's Crook County Airport, Samson Sky Inc. has, over the past several months, achieved a number of major milestones in the development of their Switchblade flying sports car. With the successful completion of their final wind tunnel testing at the University of Washington's Seattle facility in April, the company celebrated the beginning of their launch into full-swing production of the first conforming prototype, which Samson hopes will take to the air later this year or early 2015."
"We were optimistic about our new tail design and then very pleased when the wind tunnel results showed we were right on target with a winning solution," stated Sam Bousfield, Samson CEO, founder and Switchblade inventor. "The new tail design achieved excellent stability and lowered the overall drag significantly. We will have a lighter vehicle now too."
"As one can imagine, weight is critical to the success of any high performance vehicle, especially one intended to fly. As Bousfield explained, designers of aircraft, race cars and even speed skaters use wind tunnel testing extensively to get a real world, extremely accurate picture of their aerodynamics and performance."
"The Switchblade is a sleek and sporty three-wheeled vehicle that will both fly and drive extremely well. Seating two passengers side-by-side and powered by an 180 hp Motus V4 engine, the Switchblade is estimated to cruise through the sky at 160 mph for up to 350 miles. On the ground it will have a top speed of over 100 mph and handle like a sports car. Add to this, the Samson engineering department's estimate that it will get about 40 mpg and run on unleaded gas you buy at a filling station, and you will find the Switchblade lands in the class of "very green vehicles".
"We're proud of the fact that our ground test vehicle out-performed a Jaguar XK8 in standing-start speed tests," boasts Bousfield. "Our recent slalom tests, which followed Road and Track's protocol of placing eight pylons over a 700 foot course, really put the vehicle through its paces. We are very happy with the vehicle's handling and nimbleness – plus, it's really a blast to drive!" Sam added with a smile."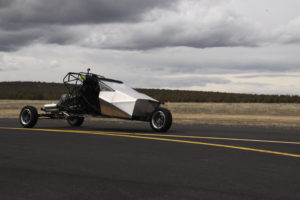 "Samson reports that Prineville business owner Ken Duncan of Desert Machine has been doing an excellent job assisting in construction and modifications to their ground test vehicle. The tube framed "GTV" has been built with the same wheelbase, weight and center-of-gravity that the flying version will have, and is being used to test the suspension, braking and steering systems, as well as overall performance and handling in ground mode. Les Schwab's metal fabricators have been getting in on the action as well, providing custom metal parts for this exotic vehicle."
"Another milestone achieved is the start of manufacturing of carbon fiber production parts by Composite Approach of Bend. They are reportedly ramping up and after completing all wing parts, will move to the tail, and finally the body. Per General Manager Sam Meier, "Composite Approach is excited to be part of the Samson team and sees the opportunity for unparalled advancements to the aviation field as a whole, both in structures and composite materials usage." Bousfield speaks highly of the Composite pros stating that "They bring decades of composite mold expertise to the project, plus their participation in our monthly round-table meetings have made them an even bigger part of our prototype team."
"As perhaps the first truly practical flying sports car, Samson reports that they have already received interest from business owners and entrepreneurs worldwide. "People like the flexibility of having a vehicle they can both drive and fly, wherever and whenever they want," stated Portland native Jeff O'Mealy, Samson's vice president of business development. "When people, especially pilots, actually look at the costs of owning and operating a Switchblade, they're amazed at how practical it will be and how much it will save. And for people who want to attract positive attention . . . I can guarantee the Switchblade will not disappoint!"
"Samson is anticipating that many companies may adopt an employee purchase program to allow Switchblades to be used for executives and sales staff. It would allow them to spend more time on productive activity and less time on travel, not to mention adding tremendous flexibility to their schedule."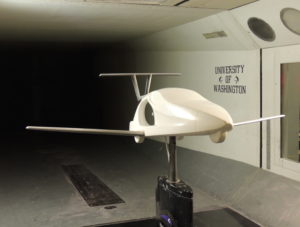 "Additionally, Samson has received inquiries from contacts hoping to use the vehicle in emergency response situations, search and rescue and border patrol, as well as a strong interest from ranchers and farmers. Reaches have come from the US, Canada, the Caribbean, Australia and South Africa. The Switchblade's development has been featured on the cover of Popular Mechanics, in Popular Science, Scientific American and numerous newspapers, as well as on Discovery Channel and other TV shows."
"Larry Moore, community relations and Samson photographer, reports that the company has been very warmly welcomed to Prineville. "People are always eager to hear the latest news and want me to send them our monthly e-newsletter. And the Prineville Airport is a great place for us to be. Kelly Coffelt (airport manager) has been super helpful from day one."
"Admittedly there is plenty to say about this cutting edge vehicle, but in the words of Switchblade designer Sam Bousfield, "If I had to boil it down to one line, I'd say we are bringing you the future – today!"
View the Ground Test Vehicle going through the slalom test.

View the Time-lapse video of assembling the wind tunnel model.
View the video of the new tail animation.

View the Time-lapse video of Composite Approach making the first parts for the prototype.

http://www.cascadebusnews.com/news-pages/city-spotlights/5357-samson-motors-reaches-major-milestones-with-flying-car