Prineville's Flying Car Heading Toward Takeoff
There's a worldwide race to see who can create the first-ever successful flying car. Samson Sky in Prineville is trying to soar ahead of the pack.
Their 1,200-pound carbon fiber prototype is called the Switchblade. Sam Bousfield, designer of the Switchblade and founder and CEO of Samson Sky, recently gave NewsChannel 21 an exclusive look at the latest production milestone – the transforming tail.
"That hasn't been released before," Bousfield said. "We have not shown it in motion. This is the first time. We just are releasing it now."
The tail now moves mechanically, with the push of a button. It takes two minutes for the tail to completely transform. When fully extended, the tail reaches 9 feet tall and 10 feet wide.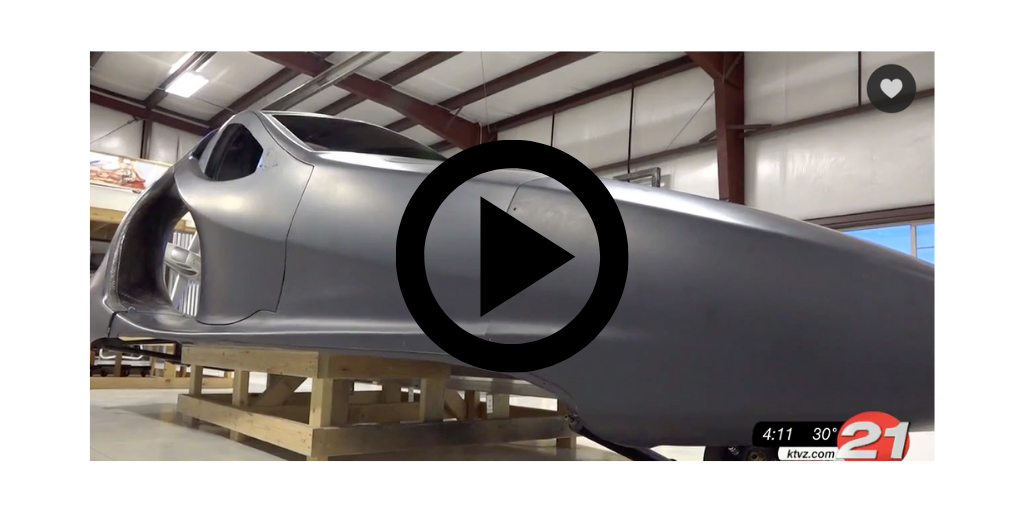 Bousfield said the tail is the most complex piece of the Switchblade. He estimated it took more than 1,000 total hours of work to make the tail operate under its own power.
The three-wheeled vehicle will be able to hit a top speed of 190 mph in the air, and can go faster than 125 mph on the ground.
When airborne, the Switchblade has a 450-mile range. You'll need to have a pilot's license to use the vehicle's flying capabilities.
The Switchblade runs on auto gasoline, so you can fuel up at any gas station. Specifically, it will use premium unleaded gas. We're told running on auto gas (not aviation gas) is typical for today's flying cars.
So what sets the Switchblade apart from other flying cars?
"We protect the wings and tails on the ground, which I think we're the only flying car to ever actually achieve that," Bousfield said. "The second is that we're high performance in both modes. That's harder to achieve, but it's definitely the motion that we wanted to do."
Some have called the Switchblade the "flying Ferrari." The Switchblade hasn't flown away from problems, though.
There were supposed to be test flights last summer, but that never happened. Still, people are putting down money for the $140,000 vehicle.
"It'll become my daily driver and flyer," said Dana Beebe, one of 75 people who already prepaid for his very own Switchblade. "I see it as not only as an opportunity to use it for fun, but to use it on a daily basis."
Bousfield said there are nearly 900 reservations already made by people from 47 states and 28 countries.
Bousfield expects the Switchblade to go airborne for the first time later this winter, and hopes his flying car will land on the market before the end of the year.
Interview/Article by: Max Goldwasser
Interview originally aired January 16, 2019 on KTVZ Channel 21
Article originally published on KTVC.com on January 16, 2019