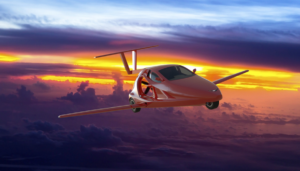 February 23, 2016
FLYING CARS: WILL THIS ONE TAKE OFF?
In Prineville, flying car gets closer to takeoff. Test flight for Samson Switchblade planned for summer.
PRINEVILLE — Crouched on the floor of a hangar Monday at Prineville Airport, Sam Bousfield ran his hand across a seemingly simple hinge cast in aluminum.
Built in fits and starts over the last year and a half, the hinge is a critical piece of the Samson Switchblade, a flying car Bousfield has been building in recent years.
Designed to allow the wings to fold beneath the passenger compartment, the hinge also provides the inspiration for the aircraft's name, a nod to the folding switchblade knife.
"It's our biggest milestone, because this is kind of the heart of what makes a Switchblade work," he said
A Redmond resident, architect and private pilot, Bousfield began playing around with aviation design more than 15 years ago. He spent a few years working with Boeing engineers refining his ideas, then decided to focus his efforts on developing a flying car.
Though many people before him have built flying cars, Bousfield said, they've not been particularly practical, usually requiring an extended period to attach or remove the wings.
Carbon-fiber construction makes it possible for the Switchblade's wings to go with the vehicle, rather than being stowed in a hangar or a garage in anticipation of the next flight, he said.
If Bousfield's team can put together a second aluminum hinge to match the first, and production continues as expected on the exterior body panels, he's aiming to have a full-sized prototype ready for a test flight in the summer.
Although the Switchblade is being built in Prineville, the first test flight is likely to be elsewhere, he said — test pilots prefer to test closer to sea level, he said, where the air is thicker and aircraft performance is more predictable.
The path to the first test flight has been full of ups and downs.
Flight tests with a remote-controlled one-fifth scale model were disappointing, but road tests of a full-scale prototype were better than expected, with the Switchblade outperforming a Jaguar XK8 in a variety of driving tests. Subsequent tests at the University of Washington wind tunnel suggest the latest design will be much better in the air than prior variations.
Although the Switchblade is driven like a car, the three-wheeled vehicle is technically a motorcycle, allowing the company to bypass some of the safety features required of cars — airbags, for instance, are out, due to the potential for an in-flight mishap.
"You could meet some turbulence that would set those things off, which would make for a really bad day," Bousfield said.
The Switchblade is being developed as a kit-built plane, in which the buyer would be responsible for its final assembly. Just as motorcycles are subject to less stringent regulation than cars, kit planes are not subject to the same testing as other factory-built aircraft.
Bousfield said if the test flight later this year is a success, he and his team can move toward production, building 200 limited edition Switchblades. The first 200 would likely not be available inside the United States, where kit-aircraft regulations require the owner to take a more active role in the building of their plane.
Getting the first Switchblades on the road — and in the skies — would help provide the funds needed to ramp up production, Bousfield said, and also help combat the negative perceptions that such a vehicle inevitably spawns.
"It's our biggest obstacle," he said. "It's not finances; it's not can we build it; it's this perception that if you have a cross between a car and an airplane, it will be a mediocre car at best and a mediocre plane at best.
"But, in this instance, that doesn't seem to be the case."
Article link: http://www.bendbulletin.com/localstate/4026067-151/in-prineville-flying-car-is-closer-to-takeoff?referrer=fpblob