While the wing structural engineering and mold drawings are being accomplished, the Samson build team turned their attention to getting the ground prototype back up on its feet. We are taking test components of the suspension and drive train and testing them in the real world prior to installation in the fuselage (body) of the Switchblade. The purpose of this is to make sure that all components can fit and function as necessary. We are using the tube frame ground prototype as the platform for these tests, as it is easy to modify for any of the various attachments we might want to do.
The first task was to mount the differential. The differential splits the power from the engine to each of the two rear wheels. We had earlier destroyed an aluminum-housing differential that was not built for handling as much power as we are using, so we are making sure that this new differential will be suitable in real world testing. Although it has an aluminum housing, it was built to take large amounts of torque and abuse. The image below shows the differential mounted in the rear of the ground prototype.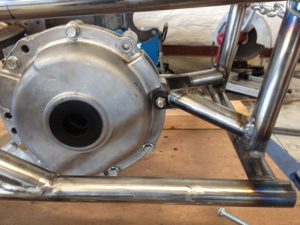 We were then able to mount the torsion bar rear suspension components, getting the ground prototype back on its feet! We are testing the torsion bar suspension units to make sure they perform as specified before we invest the time and effort to reduce the weight of the units. If we can make this work, we would save about twenty two pounds, as we can mount the torsion bars on the back side of the wing hinge beam that is already a part of the vehicle (the beam can serve double duty – as support for the wing in the air, and as support for the wheels on the ground). This removes the necessity to provide additional structure for suspension loads in a more rearward location.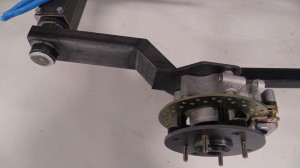 After a little fine-tuning of the suspension ride height, and leveling the vehicle, we are ready for mounting the engine.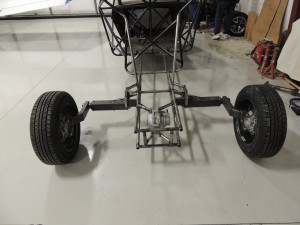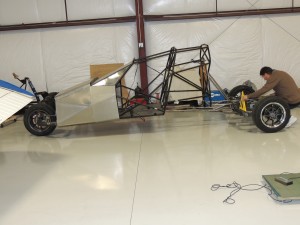 We used the same engine as before: the Hayabusa 180 hp motorcycle engine. The engine was much easier to mount this time, as we had been through it all before and knew in advance the actions required. The installation went very smoothly, and we positioned the engine in the engine bay, fabricated the engine mounts, welded them up, re-welded the exhaust system into place, and had the engine ready for connecting up all of the fuel, electrical, and mechanical linkages. We are using the Hayabusa for ground testing while we get the Motus V-4 ready for the flying prototype.