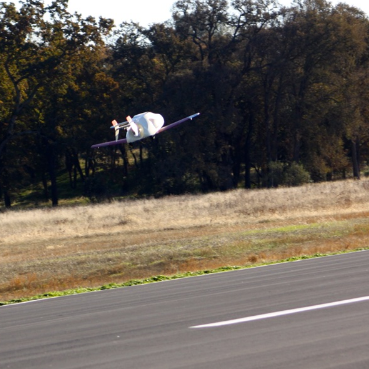 Pictured from left to right: model builder Joe Marine, RC pilot Tom Richardi & designer Sam Bousfield
We have wrapped up our flight testing with the quarter-scale prototype, having achieved 90% of our test flight objectives for this prototype. There remains more work to prepare the model as an R/C model kit, which will be done by Joe Marine at Race Pro Engineering. His excellent work and back-up on our scale prototype has earned him the right to sell R/C model kits of the Switchblade.
Our testing has accomplished the following:
– Validated lift from wing and aileron control
– Validated ducted fan performance
– Validated effectiveness of rudder and vertical stabilizer
– Validated good stall characteristics
Our goal is to produce a viable, exciting, fun and useful vehicle. We are now one more big step towards that goal!
Samson received an early Christmas present from the EAA in the form of a professionally produced video interview with Switchblade designer, Sam Bousfield. The interview was filmed in the EAA studios at AirVenture last summer and just released as part of their Timeless Voices series. This series is produced to provide a video documentary of aviation history. We think you will enjoy this, despite it being 37 minutes long. Sam talks about the development of the Switchblade, giving the inside track on its design and technology, as well as his view on the future of aviation. The link to the EAA video is found at: http://www.eaavideo.org/video.aspx?v=1922300272001
We would not be upset if you passed this along to your friends.
We are getting into the dashboard design again, as there continue to be improvements in avionics that changes the layout of our panel. Not much has changed in how we would present things, but now that we are close, we will do the actual physical design and produce some 3D renderings to convey the image. I hope you don't mind, but we will probably be asking you to do another survey on the panel to make sure we will be providing something that you will find useful and attractive.
Now that we have secured nearly all funds required for building the full-scale prototype, we are having trouble sleeping at night. Too many things to get done! Gleaning what we have learned from the quarter-scale testing, we are having DAR Corp do a final review of the vehicle prior to starting structural engineering. After that, more engineering (structural) by wizards formerly of Lockheed. Then we will be carving wing molds and making parts. We will continue the process of establishing and securing the parts needed for lighting, wheels, brakes, carpeting, etc……. for the prototype. The end result will be making history, and we will have our first flight in a place where history has been made before.