Composite Approach, of Bend Oregon, has finished the right hand body plug. The plug, as you probably remember, is the solid shape that we use to produce molds from. We then use those molds to produce parts that take the shape of the plug – in this case the body. These are large, bulky parts with lots of curves in them, which makes planning the molds quite an undertaking. My non-technical term for this is figuring out how to "carve the turkey". The trick was finding the way to produce parts that could each be pulled from their respective mold, but in the end could be perfectly joined up to make the larger complex shape. In the case of the main body and nose, this was fairly straightforward. The rear portion (ducted fan and rear wheels) is more complicated.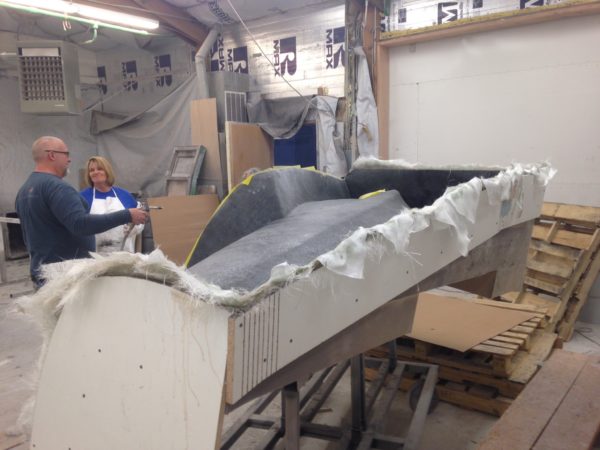 Above is shown the molds being made for the left side of the main body. After all the white carbon fiber fabric is carefully trimmed off, the mold will be mounted to a steel tube frame on wheels, and the left mold will be finished. The right mold is in process but still needs the steel framework to be finished, and should be finished this coming week. Right after that, carbon fiber parts will be made. The first parts will be the ones that comprise the partial body near the dashboard area.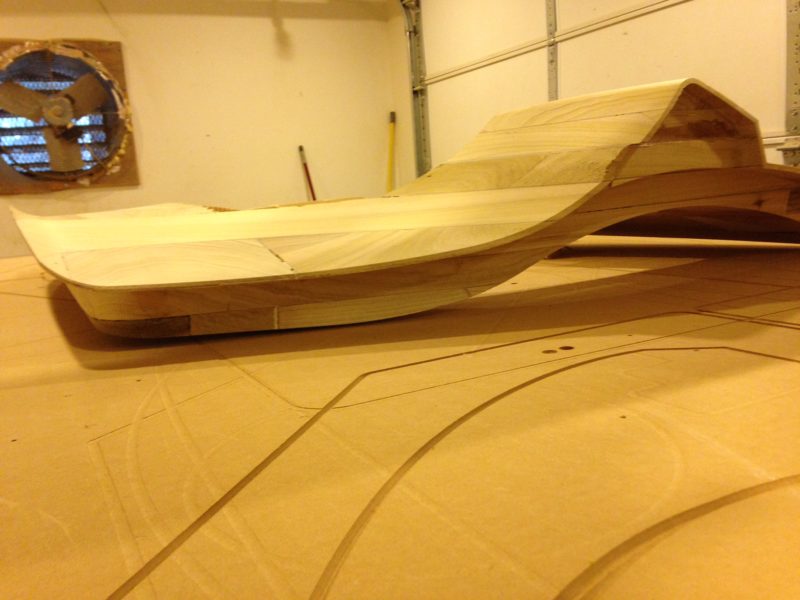 The outside skin of the main cabin area has an exact place where the doors will go into when they are closed. If you look at the door opening of an automobile, you can see that the door opening has layers to it where the various seals are placed. Ours is no different, and to create those 'pockets' where the doors fit in, we made wooden door inserts that will be bonded into the molds. The image above shows the finished wooden door insert, although between you and me, it is hard to visualize what this is! When the wooden insert is placed into the mold, it will be glued on the side facing upwards in the image above. That side matches the skin of the vehicle. The downward side (in the image above) is the shape that creates the door pocket. The end result will be a mold that, with the insert bonded into it, will produce a left body half with the door pocket we need to have.