The new front wheel spindle and hub were majorly completed, as were the rear hubs that allow us to use a variety of aftermarket wheels. The wing hinge assembly is narrowed down to two alternates, which are being reviewed for structural integrity, safety, and maintenance. We are trying to preserve the option to swing the wings closed at the end of a flight without having to get out of the cockpit (in case of rain or snow). James Bond would approve.
Some time was spent on increasing visibility through the front windshield, with the standard of Honda automobile design being applied. This entailed raising the top of the glass of the front windshield slightly, and moving the seating position slightly forward at the same time. It is a small change but one that we think will make the Switchblade even safer to operate and more comfortable to drive and fly. The partial rendering below (without tail) shows how this should look.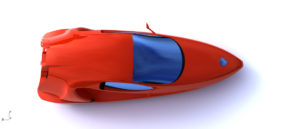 We are testing an alternative steering system which would save about three pounds. We will keep you updated on this as every pound saved…..
As work continues on sub-assemblies, we are moving our ground prototype operations to Oregon to concentrate efforts and speed up the process. This will allow us to conserve time and make it easier to transfer hard-won information to the flying prototype build team. Our hangar just received a new epoxy floor coating, and will be ready for us to place our tools, benches, parts and prototype assemblies back in an organized fashion this week.