The new anti-sway bar helped cornering characteristics, and put us just where we wanted to be – by having the rear wheels break loose in a corner prior to overturning of the vehicle.  We are walking a fine line with this, but wanted to have as fast of cornering as possible while still maintaining the vehicle right-side up.  Upside down doesn't appeal to us, and we don't think you would like it either.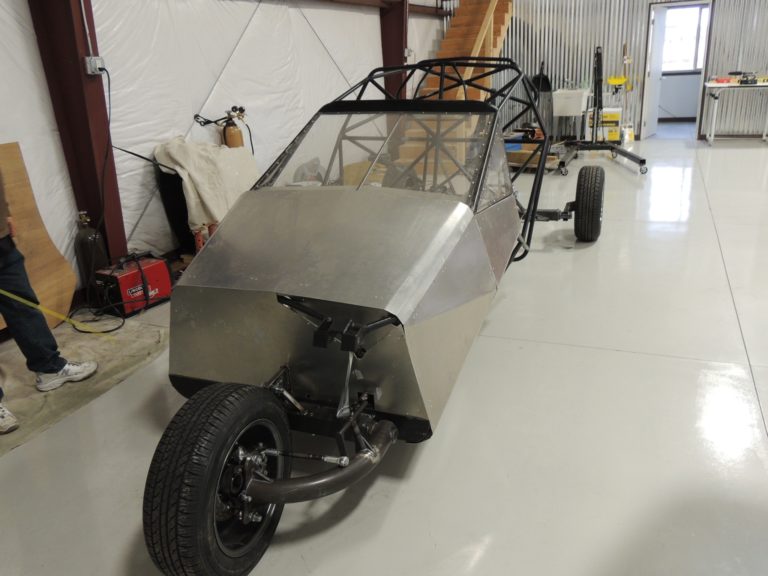 We are also happy with the new front wheel, which was custom built to allow center wheel steering with a leading arm torsion bar suspension.  The center wheel steering gave us the steering comfort and responsiveness we were after as well as a lighter assembly than the motorcycle front fork assembly we had prior to this.  We were amazed, as we felt that the motorcycle suspension system would be the ultimate light-weight solution.  We may have not had the lightest motorcycle front assembly available, but the auto-based front wheel wasn't light-weight either, so it was apples to apples.
We were getting ready to put the new vehicle through time trials at the Sacramento Raceway, both for straight line acceleration, and for the slalom test.  As reported in the newsletter, our earlier slalom test was done with 45′ spaced cones rather than 100′ spaced cones as Road and Track does.  In order to compare the Switchblade to other known vehicles, we were going to do a slalom run with the standard cone spacing.  After our first run down the ¼ mile drag strip, we found we had stripped the output shaft spline joints.  Okay – first big weak point found!  Rather than continue finding engine weak points, we are re-building the Hayabusa with a Hartley auto-conversion.  This removes the transmission, puts in a heavy-duty bottom end, and allows us to set it up with the CVT, which is the ground-transmission we feel we will offer for both the Hayabusa and rotary engine options.  We should pick up 30 more horsepower, lose a net 30 lbs of weight (including transmission change), and have a greater reliability factor.  We will still have two independent drive belts to the prop, which will now be directly off the driveshaft and will not go through a transmission.
For now, we stripped the vehicle of engine, seats, steering, cooling, electrical, and fuel tank.  To clean things up we painted the framework, and when the engine is ready, we will put it all back together and test again.  If you haven't looked at our movies on flying the x-plane version of the Switchblade, check out:  http://www.youtube.com/watch?v=aN4swAWvdRc and if you want to, see how well the x-plane model REALLY flies by downloading the Switchblade from our website and seeing for yourself.
–The Samson Team