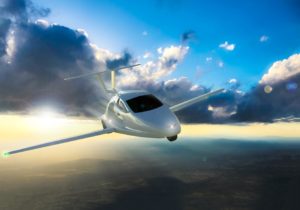 December 21, 2017
Is it a car, a trike or a plane? It's the Samson Switchblade
The flying car takes one step closer to practical reality with the imminent maiden flight of the amazing Samson Switchblade.
BY JON WALL ON DECEMBER 21, 2017 , NEWS
A futuristic fantasy ever since the 1920s and a staple of science-fiction movies, the flying car finally looks as if it's about to take off as a commercial proposition. That's because the Samson Switchblade, which to us looks like the most credible proposition yet (rather than the more typical mad inventor's delusion), is edging closer to its first flight, planned for spring 2018.
In terrestrial guise the three-wheel, two-seat Switchblade is perhaps closer to a motorcycle than a car, though as it comes with side-by-side leather seats, digital display, heater and air-con, as well as a high-end sound system, its occupants will endure few of the rigours of traditional biking, while enjoying all of the comforts of four-wheel motoring. Powered by 1.6-litre V4 engine offering a little less than 200bhp, it'll be pretty nippy on the road, too, with a projected maximum speed in the region of 160km/h and 0-100 acceleration in less than seven seconds. As it's around 5 metres long, it'll also take up no more garage space than a big Merc or Audi.
Drive to an airfield, however, and, in an exercise that takes around three minutes, a pair of slender wings swings out from the Switchblade's lower body and a tail extends from the rear, which transforms the trike into a tiny, sleek and rather sexy aircraft. Once aloft, it should fly to altitudes of up to 13,000, with a maximum speed of around 170knots (310km/h).
The Switchblade looks as if it's the ultimate toy, though there are clearly limitations. The first is that you won't be able to flip out the wings and leap over traffic jams whenever you come to them, as to take off and land, you'll need proper runways of 350 and 500 metres respectively. Secondly, you'll have to be a certified private pilot in addition to holding the appropriate road licence (we assume either for a car or a motorcycle). You'll also have undertake a good deal of the assembly work yourself.
Yet none of those factors appear to have dented the Samson Switchblade's desirability one iota, as before it's even flown some 250 customers have already signed on the dotted line. We're seriously thinking about joining them.
IS IT A CAR, A TRIKE OR A PLANE? IT'S THE SAMSON SWITCHBLADE