Flying car 'switchblade' transforms from road-legal vehicle to aircraft in under 3 minutes
Three-Wheeled Flying Car 'SWITCHBLADE'
The automotive industry has seen a spike in the development of flying cars and eVTOLs, and Switchblade from Samson Sky chips in its offering. This time, it is not an eVTOL, but an actual street and road-legal car with only three wheels that can be transformed into a flying car.
Switchblade, just like its knife counterpart, has a pair of wings and a tail that expand and collapse whenever the driver wants to turn the vehicle into an aircraft in under three minutes.  Since it is a road-legal flying car, the driver can park Switchblade in their garage and take it out like an ordinary vehicle.
images courtesy of Samson Sky
If they want to fly it, they might have to go to their local airport and there, fly Switchblade up to 200 mph and 13,000 feet. After a period, they just land again to transform their aircraft into a sports car, back to its driving mode with the wings and tail safely towed and protected.
Samson Sky reminds drivers that they need to have either an automobile or a motorcycle license to drive Switchblade on land, while a private pilot license to take it up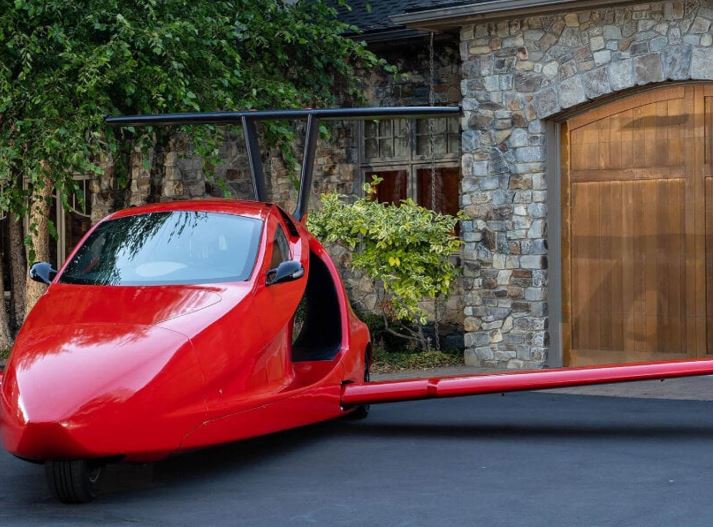 'Switchblade' transforms from road-legal vehicle to aircraft in under 3 minutes
AUTO-PILOT MODE IS OFFERED AS AN OPTION
Samson Sky prides itself on installing its 'Skybrid Flying Car Drive System' into Switchblade. The system allows the car to have a hybrid drive-and fly-system while adding other features including regenerative braking. It also offers reverse thrust which acts like a parachute for the flying car to keep the drivers safe and well on a wet runway.
The exclusive technology also hosts air-brake assist on descent to keep the drivers secured when they come in for a landing. Switchblade sports all-wheel disk brakes, a high-tech dashboard, and a climate-controlled cabin that adjusts accordingly to the weather outside the vehicle.
this street and road-legal car only has three wheels
The front and rear of Switchblade have crumple zones, side intrusion, and roll-over protection to protect the flying car from accidents, and the team of Samson Sky has also included an optional auto-pilot feature in case the drivers just want to recline in their seats while soaring in the sky.
Performance-wise, Switchblade can achieve a maximum airspeed of 200 mph, cruise speed of 160 mph, maximum driving speed of 125+ mph, a range of 450 miles, and a stall speed of 67 mph. At the moment, the three-wheeled flying car runs on gas.
the tail of Switchblade
SWITCHBLADE VEHICLES CAN BE CUSTOMIZED
There are three models of Switchblade at the moment with the classic red taking the lead. The Switchblade Special looks like it could be used for military operations, glancing at its bullet-like built and color and based on the written description of the company.
Some people have special requirements and needs due to the use of their vehicle or the climate in which it will be used,' the company writes. If drivers want their customized Switchblade, the Limited Edition option might cater to their needs as Samson Sky tailors the vehicle to what the drivers want.
Switchblade
The Limited Edition vehicles will be individually crafted and provide elegant interior design from the use of leather and carpeting to metals, woods, and even insets of precious gems or stone. Enhanced sound systems, heads-up displays, and security devices and protection are also offered.
Samson Sky has run tests of the classic Switchblades and has opened a pool of reservations for interested clients (the price of Switchblade starts from 170,000 USD). The company has also written that it is now only weeks away from Switchblade's its first flight.
Switchblade flying during sunset
Switchblade is also available in Special and Limited Editions
Switchblade Special Edition
project info:
name: Switchblade
company: